GraphicMaiJi - Graphic Program
Image - Processing, Animation, Batch Processing, Gallery Maker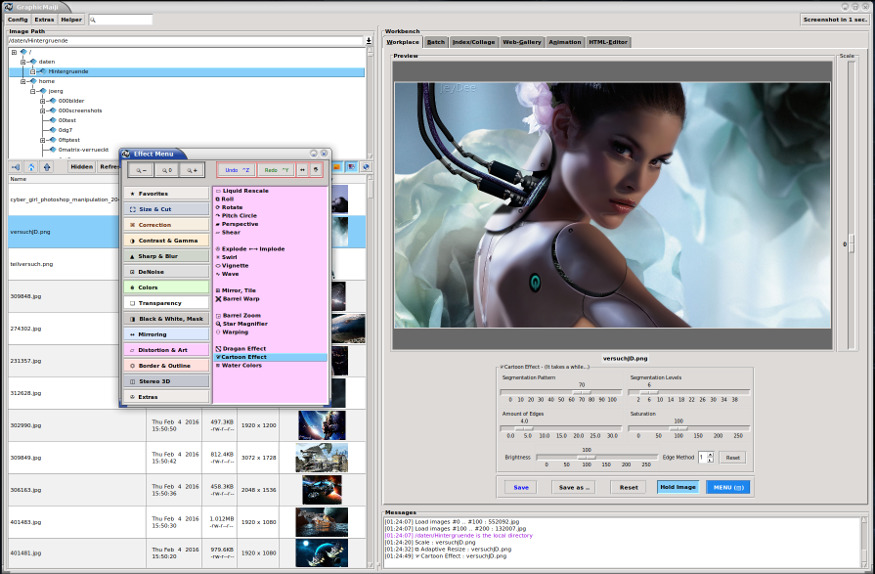 Download (Freeware, Open-Source). Cyber Girl Image from Jose Javier.
Image Processing, Image Animation, Image Batch Processing, Image Web Gallery Generator, HTML Editor, ... for the Linux Desktop.



All image processing functions are using ImageMagick and/or FFmpeg.



Additional used programs are Trimage, jp2a, uzbl, NcFTP, DCRAW, ZBar-Tools and tesseract-ocr.



Simple and intuitive GUI. In image processing, see live what happens.
Supports reading 100+ file formats, Formats List.
Integrated Image Viewer single/multiple.
Gallery Generator with embedded Styles, Arrows(internally/external), Lightboxes, Frames, Windows, CSS Effects.
Image Manipulator with 80+ manipulation possibilities for the image presentation, like correction, distortion, art effects.
Image Animator with 20+ animation possibilities for the image presentation.
Rudimentary file functions single/multiple.
Batch Processing of most functions with arbitrary number of files.
HTML Image Map, Collage with several Effects.
HTML Editor with HTML checking + cleaning.
Animation with sets of images or with a single image, several effects.
Screenshots - Fullscreen, Screenarea, Window.
Video Screen Recording/Casting - Fullscreen, Screenarea.
Convert Videos/animated Gif's to images or images to video, video format converter.
Convert animated Gif's to video.
Stereo 3d images, JPS, MPO, Anaglyph. Read and write *.jps, *.mpo files.
QR Code Generator, Reader.
Encryption/Decryption of Text with an image as key.
OCR Optical Character Recognition.
Image to ASCII HTML Art.
Mini FTP, Mini Calculator.



Download (Freeware, Open-Source).



ptkSearcher - Little File Searcher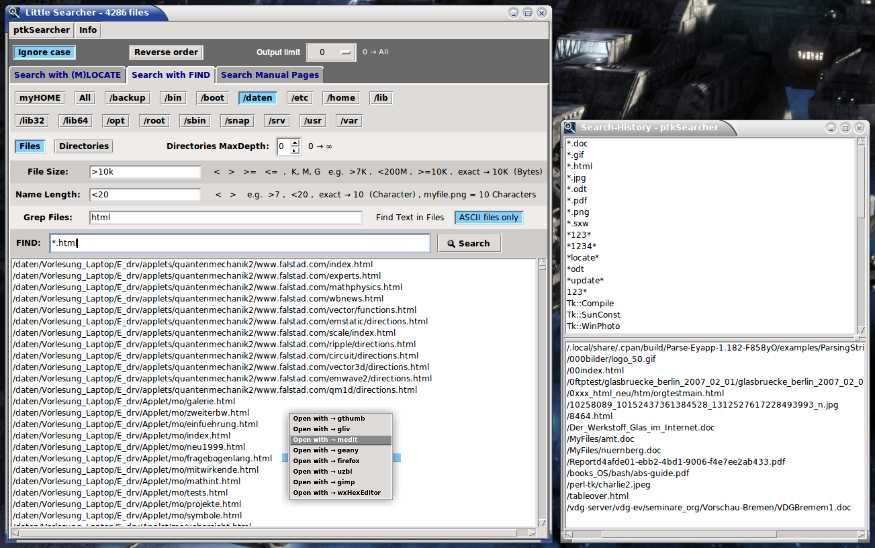 Download (Freeware, Open-Source).
Search for files and directories in a Linux/Unix-like directory structure.



Quick search using the (m)locate database,
particular search with find (Perl-Modul) in the current state,
search for strings in files, search manual pages.
Opens the file found with the default application or with an application of your choice.
Search History for the last 100 search strings and clicked files.



Download (Freeware, Open-Source).


pg3Browser - Nano Web Browser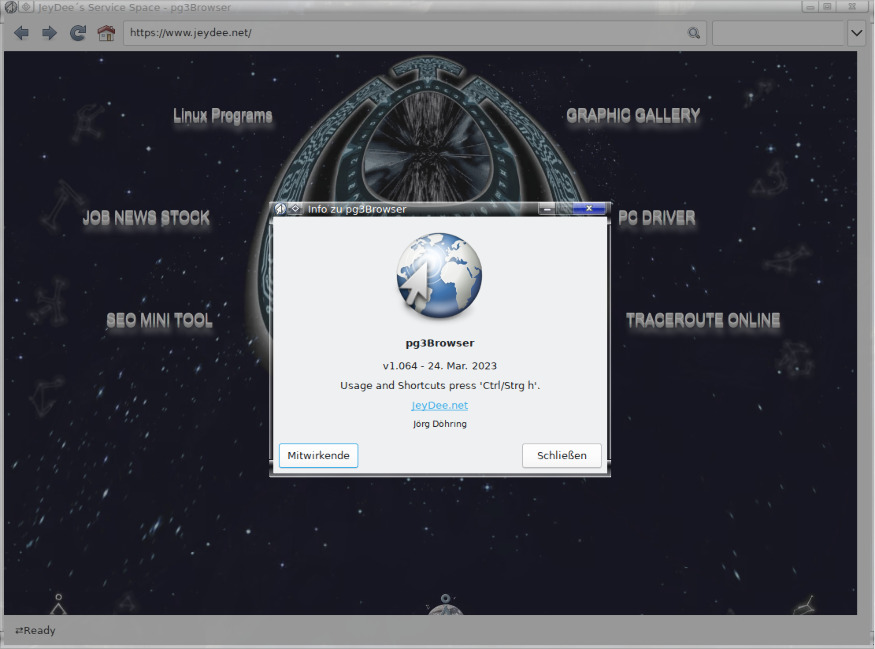 Download (Freeware, Open-Source).
A minimalistic Browser, especially for Web Developers and Previews.



Simple application.
Quick startup.
GPU Acceleration and WebGL switchable on/off.
Back, Forward and History Buttons, URI Entry.
History of the last 100 Links/URLs, saved on exit.
URI Entry for global and local sites or files and Google Search.
GUI or Console usage.
Some keyboard shortcuts.



Download (Freeware, Open-Source).


Interesting Links
Perl/Tk (german)
Mastering Perl/Tk (online book)
RPerl, Perl5 → C++ Compiler
&what; Discover your character
RAW Format Image Samples of many Cameras